Feral Vector 2018
Jump to navigation
Jump to search
Date:
31/05/18–02/06/18
Location:
Birchcliffe Centre, Hebden Bridge, UK
Recurring: Feral Vector
About:
'Feral Vector is not like other game design events. If you feel like an impostor at games events, you're not only welcome here, we encourage you to attend. If you are in the videogames industry, but looking for more than it can give, Feral Vector is for you. Feral Vector is fundamentally about outside influences, accessible tools, and the fringes of game design – because that's where the interesting stuff happens.'
Ticket price:
£N/A
Estimated attendees:
200
---
Event Webpage:
Facebook:
N/A
Twitter:
Hashtag:
feralvector
Logo/Art:
Brochure/visitor guide/handout: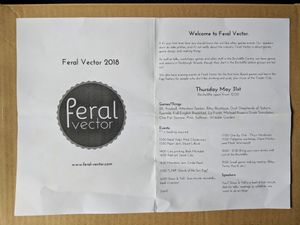 ---
Run by:
Feral Sett - David Hayward, Pax Lowey, Eli Rainsberry, Cel Davidson, Amran, Devlin, Kriss, Beck Michalak, Jim Thompson, Siobhan Gibson, Shi
With the help of:
other nice people
Funders/Sponsors:
Yorkshire Games Festival, BFI, Boneloaf
---
Talks given:
Vaida Plankyte
Hanna Dwan
Andrew Beck
Hwa Young Jung
Eugene Griskov
Chella Ramanan
Kim Foale
Emma Bearman
Hana Lee
Becky Leigh
Jade Leamcharaskul
Various others (Show and Yell!)
Games/Things shown:
Pink – Sam Brown and Joshua Unsworth
Softwar – Ben Green
Bitsy Boutique – Mark Wonnacott and various bitsy authors
Attention Seeker – Georgie Grace
DUST SHEPHERDS OF SATURN – Jim Thompson, Emmylou Laird and Drew Harpunea
Wobble Garden – Robin Baumgarten; Audio by Martin Kvale
One For Sorrow – Adam Dixon
Anyball – Laurenz Riklin and Hang Ruan
Full English Breakfast – Ian MacLarty
Michael Rosen's Drink Simulator – Ell Buscemi
Fairmile – Ed Key, Beck Michalak, Eli Rainsberry, Sophie Houlden
La Forêt – Supr
29 – Humble Grove, Nikki Lombardo, Eli Rainsberry
Probationary – Hwa Young Jung
Art Deck – Holly Gramazio
Cuckoo Curling – Grenadine
Phogs – Bitloom with Coatsink
Unannounced Really Good Puzzle game – Benjamin Davis/Alan Hazelden/Eli Rainsberry/Elisa Marchesi/Ben Ruiz
Quiet as a Stone – Richard Whitelock @rpgwhitelock
DUST SHEPHERDS OF SATURN – Jim Thompson, Emmylou Laird and Drew Harpunea
Enchanted Launderette – Emmylou Laird
Extreme Event Game – Hisham Tariq
The Book Ritual – Alastair Aitcheson
Science Game Playtest – Jana Wendler
DUST SHEPHERDS OF SATURN – Jim Thompson, Emmylou Laird and Drew Harpunea
Albatross – Sarah Cole
Balance – Fedya
Live Games/Experiences:
Shards of the Sun Egg – by Jim Thompson
One by One – by Thryn Henderson
Cardboard Spaceships – by Jim Thompson
Business Year 1999 – by Adam Dixon, Nate Crowley, David Hayward
Jeff Golblum Is Concerned About Your Academic Progress And So You Must Tend His Menagerie Of Gentle Mutant Abominations – Xalavier Nelson Jr.
Workshops/Jams held:
Rebel Yelp! Videogame Potluck – Mick Chesterman
Paper Jam – Stuart Lilford, Feral Sett
Manifesto Jam – Emilie Reed
Flatgame workshop – Claire Morley, Mark Wonnacott
Makey Makey workshop – Installation Required
Microbit workshop – Installation Required
Misc other:
Lino printing shirts – Beck Michalak, Shi Blank
Nail art – Sarah Cole, Becky Leigh
---
Photos:
N/A
Recordings:
N/A
Blogs/articles/write-ups:
http://www.gameindustry.com/editorials/eurofiles/feral-vector-the-antidote-to-e3/
---
Anything Else:
---